Pretty Maids + support acts
HAMNEN - MOTALA
I samband med att American Power Tour firar 10 år så vill vi göra detta ordentligt så vi presenterar stolt Pretty Maids som gör en avstickare på sin världsturné "Kingmaker World Tour" och står på scenen lördagen 1 juli
Bäst av allt, det kostar inget, fritt inträde!
Festen börjar redan på fredagskvällen i Hamnen med öltält, mat och band på scenen hela kvällen!
American Power Tour celebrate 10 year, what a better way to celebrate this great event to invite Pretty Maids to join the party!
Pretty Maids will make a stop on their "Kingmaker World Tour" and preform a full concert on Saturday evening!
Best of all, its free entrance!
Party starting on friday with bands on stage, beer tent and great food!
Tidschema American Power Tour festival Hamnen - Motala
18.00 - Området öppnar
18.00 - 19.30 Trubadur/band på scen
20.00 - 20.45 Just In Case
21.30 - 22.15 Farmers Blues Band
22.45 - 23.30 Buddy Larsson
00.00 - 01.00 Guntrigger
01.00 - Området stänger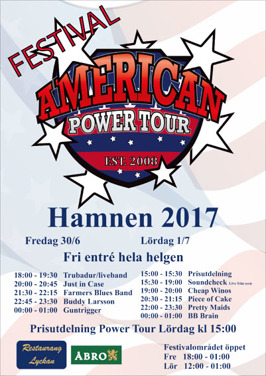 12.00 - Området öppnar
13.00 - American Power Tour anländer
15.00 - Prisutdelning American Power Tour
15.30 - American Power Tour slut
19.00 - 20.00 Cheap Winos
20.30 - 21.15 Piece of Cake
22.00 - 23.30 Pretty Maids on stage!
00.00 - 01.00 BB Brain
01.00 - Området stänger